"KACHER" a family-run business, has become the world's leading provider of efficient cleaning systems. Ready to help save resources as much as possible. Kärcher makes a difference with efficiency, innovation and high quality.
     KACHER cleaning equipment stands out for its design. It also integrates complete functionality and ease of use. KACHER innovation and commitment play an important part in making our products even more effective. makes the company different from the market This is confirmed by numerous patents and awards granted by various reputable institutes. More than 1,300 patents and a wide range of product models to choose from. It is a clear testament to the company's ability to innovate intelligently.
Floor Sweeper
Floor Scrubber
Cold Water Pressure Washers
Hot Water Pressure Washers
Carpet Cleaner
Steam cleaner
Floor Sweeper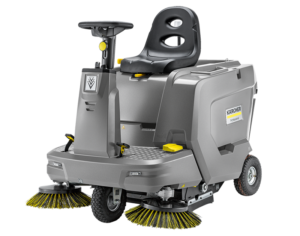 When it comes to cleaning, no job is too big or too small for Kärcher commercial and industrial sweepers. Featuring a wide array of compact manual sweepers, walk-behind floor sweepers, ride-on floor sweepers, and highly robust industrial ride-on sweepers, we have the perfect machine to fit your needs. Fast brushes and high performance ensure cleanliness in no time at all. In addition, Kärcher floor sweepers are flexible in use, easy to handle, and provide perfect cleaning results – everywhere and anytime.
Floor Scrubber
Cold Water Pressure Washers
Hot Water Pressure Washers
Carpet Cleaner
Steam cleaner